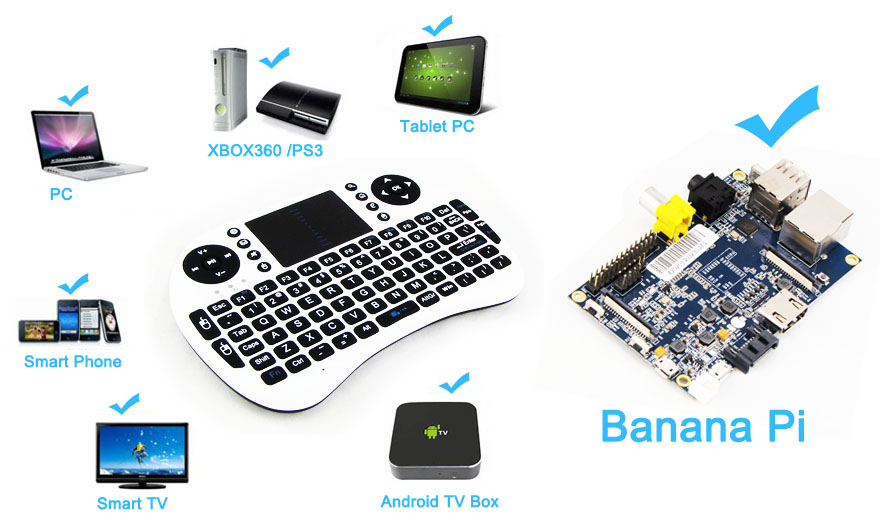 SUPPORT DEVICES:
-- 
Banana Pi (Android OS, Raspbian OS, Lubuntu OS);
-- PC;
-- Tablet PC;
-- Smart Phone;
-- Smart TV;
-- Android TV Box;
-- XBOX360;
-- PS3;
DESCRIPTION:
This is a wonderful combo, 2.4GHz mini wireless QWERTY keyboard, Touchpad combo, with USB interface adapter for the lecture, sales manager, presenter, from within a 30' radius make a presentation and operate PC wireless. Change slides and screen options, write on the screen, emphasize words and objects just by using this wireless mini keyboard and mouse with Touchpad. For people who want to watch internet TV play on their standard TV, via broadband and a PC like NBC, ABC, FOX and IPTM Android TV box, if use this wireless mini combo, who can sit in comfortable chair and select viewing pleasures without waking to computer to change channels or scroll through options.
ABOUT TOUCHPAD:
This product was added to the innovative function of the mouse wheel, when you press the Fn button with your fingers touch anywhere in the sliding region, can facilitate the realization of the mouse wheel functions.
FEATURES:
- 2.4GHz wireless connection, smart and portable size
- To enjoy PC multi-media entertainment at home
- Multi-media remote control and touchpad functional handheld keyboard
- Touchpad DPI adjustable functions
- Built-in intelligent power manage software for power conservation
- Powered by rechargeable Lithium battery, USB charge cable
- To share large TV and projector screen
- Ergonomic design, Perfect shape
- Comparable to the real notebook touchpad
- 92 keys
- Build-in removable rechargeable Li-ion battery
PARAMETERS:
-- Dimensions (approx): 146.8mm x 97.5mm x 19mm;
-- Transmit power: +5db Max;
-- Operating voltage: 3.3V;
-- Operating current: < 50mA;
-- Charging current: < 300mA;
-- Sleep current: < 1mA;
COLOR:
-- White&Black;
SIZE:
-- Size: 146.8mm x 97.5mm x 19mm;
WEIGHT:
-- Gross Weight: 182g;
-- Net weight: 109g;
IN THE PACKAGE:
-- 1 x Mini wireless keyboard;
-- 1 x Wireless receiver;
-- 1 x USB cable;
-- 1 x Li-ion battery;
-- 1 x User manual
PACKAGE:
-- Color box;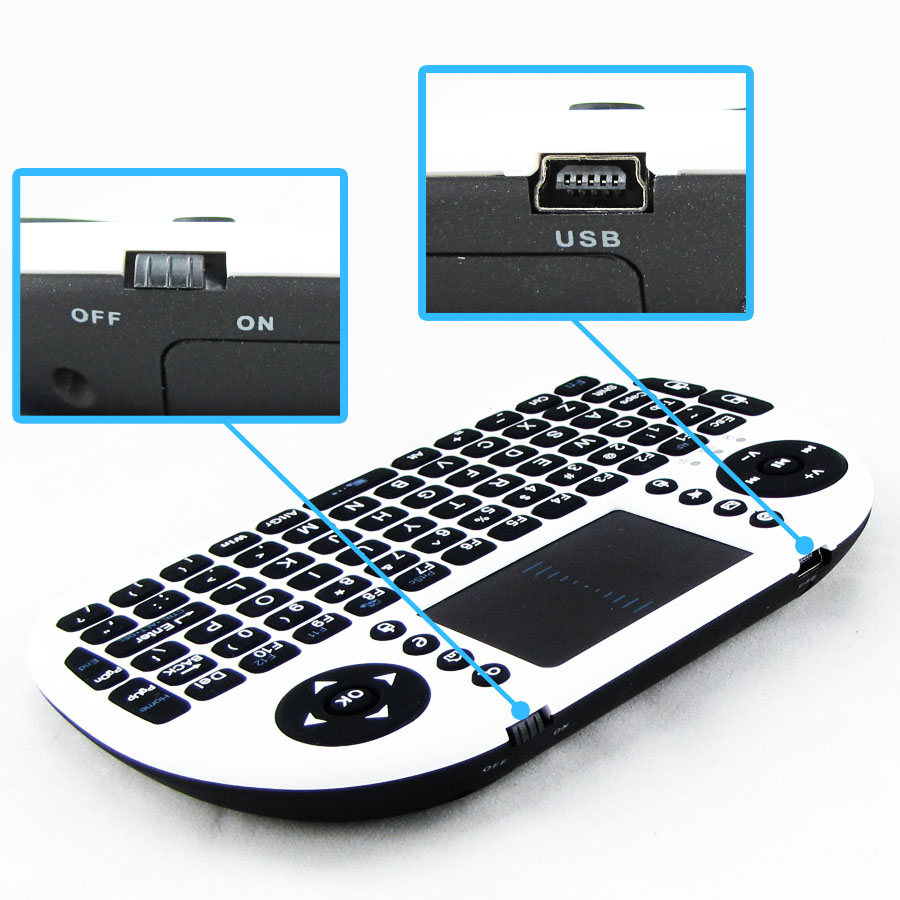 Important Accessories: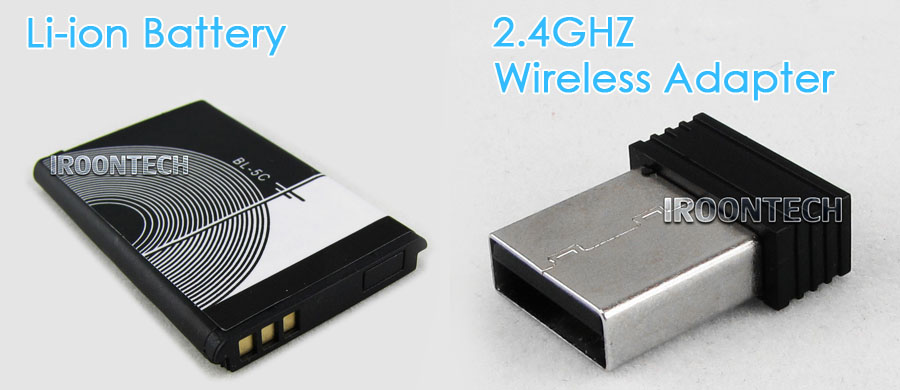 There are yet no reviews for this product.
Mini Portable Retractable USB Optical Mouse for Banana Pi